BKCM House Party!!!
Job Details
Job ID:
Title:BKCM House Party!!!
Location:,
Post Date:11/07/2017
Job Description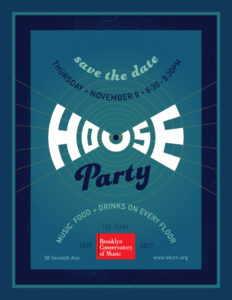 NYCM Search Owner, David Cone-Gorham, is proud to be on the Board of Trustees at the Brooklyn Conservatory of Music.
On November 9, the Brooklyn Conservatory of Music will celebrate 120 years of providing high-quality music education all over New York City with a HOUSE PARTY fundraiser!
5 floors. 14 rooms. 4 bars. 32 musical acts and experiences. Guests will wander from room to room, discovering new music, new cocktails and food, new surprises at every turn.
All proceeds from this event support our programs: the Brooklyn Conservatory is a nonprofit which provides free music education to 5,000 kids and adults at public schools and community centers across New York City–80 percent of which live at or below the poverty line–and which provides music therapy to 1400 people with special needs, many of whom receive our services at little or no cost.
This will be an unparalleled event, for a fantastic cause.
HOUSE PARTY 2017 PERFORMERS CONFIRMED:
Hearing Things : : : Middle-eastern inspired surf rock with R&B horns, led by Matt Bauder (Arcade Fire, Iron and Wine, Roscoe Mitchell, Anthony Braxton)
Tone Johansen and the Handsome Gents : : : Bourbon and bluegrass sponsored by Sunny's Red Hook 
Nepali indie-pop star Bartika Eam Rai
Andy Gamez Escabia and New Young Creative Movement : : : Free-Format Fusion, Cuban & Caribbean  
…and many more.
Buy Tickets – Support BKCM Today!
**If you experience problems uploading your resume, please email it directly to
resume@newyorkcm.com
and reference the job ID in the subject line and we will be in touch shortly.**