Latest Newsletter – Happy New Year
Job Details
Job ID:
Title:Latest Newsletter – Happy New Year
Location:,
Post Date:02/03/2021
Job Description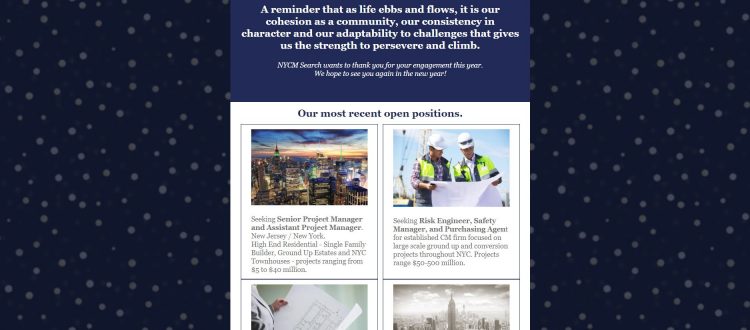 Latest Newsletter – Happy New Year
View our latest Newsletter Here
EXCERPT
Just a day or two ago I was thinking back to pre-covid times when I used to engage more in in-person networking events. These were often very interesting, as long as you took the effort to introduce yourself to people and to be introduced to others by peers.
Even pre-covid, I had pulled back from these events a bit. With a family at home, three children, a spouse, non-profit board commitments, and an increasingly efficient process in the office utilizing new tech, resources, etc…, these networking events were less off a necessity for my business to grow.
One of the many lessons of 2020 and the pandemic has been that we thrive on human interaction, and that while the phone, email, messaging, and zoom are effective tools, nothing…..nothing at all, will replace the energy of two humans sitting in front of each other (or standing), discussing in real time – with no latency, no glitches, no digital distance.
And so as we move through what will likely be a challenging, but hopefully 'better' year in 2021, I will look forward to a continuation of leveraging new efficiencies and process here in the office, while also readying my self for more in person engagement as the pandemic finally subsides.
Because….I like you guys! To listen is to learn, and I have learned much from all of you.
From me to the tens of thousands of professionals in my network, I wish you a Happy New Year, a safe and healthy New Year, and when the world is ready – a New Year with more in-person connections. Until then…. wear a darn mask, please. 🙂
David Cone-Gorham
Owner, NYCM Search, LLC.
**If you experience problems uploading your resume, please email it directly to
resume@newyorkcm.com
and reference the job ID in the subject line and we will be in touch shortly.**