The Humans in our Network
Job Details
Job ID:
Title:The Humans in our Network
Location:,
Post Date:03/07/2018
Job Description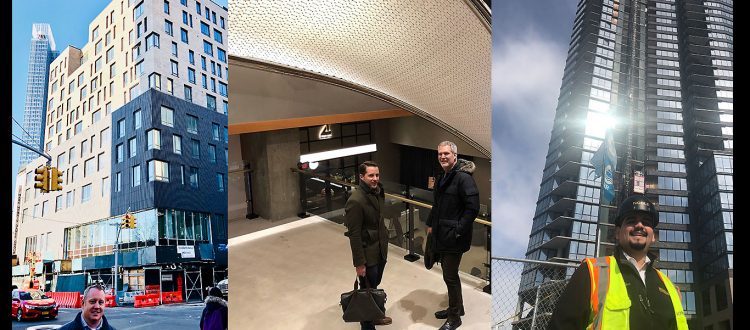 The Humans in our Network
Over the past few months I've made a point of getting out to see the people I have worked with to secure great positions to see the kind of work they are doing, find out how they are doing, and make sure they are happy.
It has been a really excellent experience and I've been super excited to follow up with just a few of the many candidates NYCM Search has placed over the last 10 years.
I recently visited with Eric Fauerbach, a Senior Manager at Jonathan Rose Companies, whom I placed back in November 2015.  Eric was wrapping up a really nice project near BAM for JRC called the Caesura.  This project was a ground up job, including 123 mixed income residential units, nearly 3,000 sq ft of retail space, over 21k sq ft for cultural use including 17k for The Center for Fiction and 3700 sq ft for the Mark Morris Dance Group (an adjacent neighbor to the building).  With the design team comprised of Dattner, Bernheimer and Life Edited, the building was super unique from the outside and inside.
As Eric was wrapping up this 121k sq ft project he was kind enough to take me on a walk through, where I toured some of the amenities and some of the model apartments, as well as some of the retail space.  I also got to catch up with him on his family life, and we chatted about our kids, etc…  It had been nearly 5 years since we had last met, and thus a lot had changed in that short amount of time.  Eric let me snap a few pictures too, which I appreciated.
About a month later I was invited by the team at UAP to visit a project they had completed up at 1 West End Ave.  UAP is an awesome / unique company which provides design, fabrication and installation of urban artwork into outdoor and indoor spaces in cities across the globe.  I had placed Jamie Reynolds with them as a PM a few years back and now he's operations manager.  His boss, Ben Tait, who runs North America, was there as well – along with a good number of their team.   This was great because I got to catch up with Jamie and Ben, but also because I was able to learn more about their culture and some of the current needs they had.  Of course it didn't hurt that their project was a massive curved sculpture that took up three floors of the lobby.  Again, pics were taken, and posts were made on social media to boast. 😉
Most recently I was able to catch up with Steven Villanueva, a health and safety professional whom I had placed as Corporate Safety Director with Noble Construction Group just last fall.  Steven and I caught up and chatted about how his job was evolving.  He was on the move that day, but I was able to talk him into a cup of coffee after he finished up some work at Noble's massive Greenpoint Brooklyn project on the waterfront.  Here Steven was able to share with me some of the awesome work he's been doing to deliver a comprehensive safety program to Noble.  What I enjoyed most was hearing about how Steven was not isolated in his efforts – quite the opposite.  He had taken it upon himself, with the blessing of ownership, to consistently visit all 14 projects throughout NYC that Noble is building, to start building consensus and soliciting ideas from the workers, supers, project managers and executives on these projects – to inform the manuals he was creating.  Ownership had told him they wanted a culture of safety at Noble, and after 6 months, Steven felt that they had exceeded his expectations.  Again we got to talking about family, kids, life…, which always seems to happen.
My favorite part of this job is the human part.  The part that happens aside from the transaction of a placement.  The part of the job where you learn about people, how they like to be challenged, what makes them feel whole, how they see themselves, who they are and who they want to be, how they love their families, how they even love their work.  And then I remember….that's why I like this job.
David Cone-Gorham, Owner
NYCM Search, LLC.
**If you experience problems uploading your resume, please email it directly to
resume@newyorkcm.com
and reference the job ID in the subject line and we will be in touch shortly.**